BEST ZONE SIGNAL 2020 indicator
28 September 2022
BEST ZONE SIGNAL Indicator: One of the best Forex indicators
In this post, we will introduce you and present the link for download of the BEST ZONE SIGNAL indicator.
In addition to introducing this Forex indicator, we will give you a brief explanation of the indicator too.
The best Forex indicator is not an indicator that necessarily issues trading signals for you, in fact there are indicators that determine and issue signals with great precision. Most of such indicators have also many errors, but one of the most accurate signaling indicators is the BEST ZONE SIGNAL indicator.
BEST ZONE INDICATOR SIGNAL
Take a look at this image (you can click on it to view full size)
As you can see in the image above, a new menu will be created in the left corner after installing the indicator.
In this section, this indicator based on its settings and calculations, including a history of market ranges, predicts two probabilities for the future trend of the market and accordingly issues trading signals (in addition to SL and TP) relying on zone of the market.
It should be noted that the SL and TP that is announced for the proposed signals, will be the same figure that you specify in the indicator settings (this is one of the weak points of the indicator).
BEST ZONE SIGNAL Indicator Settings
There are a number of settings in this indicator that you can change depending on your preference.
Take a look at the image below (click on it to view the full size)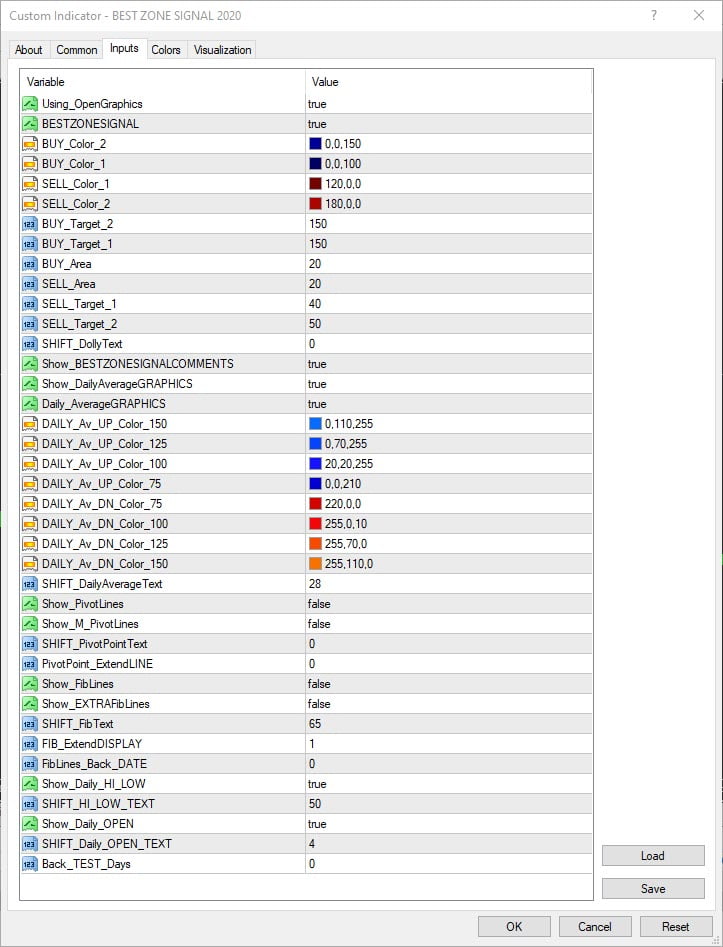 The most important part that you should set in this indicator is the part related to determining the TP and SL.
You should set this section depending on the chart which is active and also depending on the time frame you have selected.
For example, for a 30-minute timeframe in EUR/USD, 20 pips are usually considered okay. Of course, you have surely experienced this number yourself.
Other settings of the indicator are a part related to colors and a part related to activating more features and you can enable or disable it depending on your needs.
Download BEST ZONE SIGNAL
You can download this indicator in this post without paying any cost and completely free of charge.
Please note that this indicator is available for you with no restrictions.
This means that there is no limit to whether you can use the real account or the demo account. You have no restrictions on which broker to use. There is no limit to the number of times the indicator will fail after a while. So you can download it and enjoy it with no worry.
To download this indicator, use the following link:
how to install and call the BEST ZONE SIGNAL indicator:
After downloading the indicator, you will have a ZIP file that you must first decompress it.
Inside you will find a file called BEST ZONE SIGNAL 2020.Ex4 which you have to transfer it to your MetaTrader.
Copy the file with the name BEST ZONE SIGNAL 2020.Ex4 and from the File tab in your MetaTrader.
Go to the Open Data Folder section and click on it to open a folder.
In the opened folder you will see several folders that you have to go to the MQL4 folder and click on it.
Then in the list of new folders that you see, click on the Indicators folder to enter a folder in which you see your indicators.
Copy the file you downloaded and unzipped as BEST ZONE SIGNAL 2020.Ex4 there.
Now just close and reopen your MetaTrader once and you will see that in your list of indicators an indicator called BEST ZONE SIGNAL 2020 has been added.
Double-click on the BEST ZONE SIGNAL 2020 indicator in your desired chart and then click on OK.
You will easily see that the indicator is on your chart.
Change BEST ZONE SIGNAL indicator settings
If you want to call the indicator on your chart before clicking "Ok" go to the Inputs tab and define the settings according to your preference.
If you want to change the indicator in the settings after installation, all you need to do is just click on the chart that Indicator is installed in it. Press the combination key of control + i to list the available indicators and display the chart for you and then select the desired indicator in the settings to change them according to your preference.