CCI indicator is one of the most basic indicators in MetaTrader and has many applications.
In 2019 and 2020, this indicator was one of 10 mostly used indicators in financial markets.
According to the studies made by technical analysts, using this indicator along with other Forex Indicators or their personal strategies, traders try to filter the enter and exit points of their trades.
Stay with us to learn more about this indicator and how to apply it.
Getting familiar with CCI indicator
CCI stands for "Commodity Channel Index", which is specially designed and mostly used for commodities and stock markets.
CCI indicator is used in various stock markets and various securities all around the world.
CCI indicator is an oscillator and its formula is calculated based on the daily price and the moving average.
CCI indicator, like other indicators which are oscillator such as RSI and MACD, has a scaling.
In the scaling section, the middle line is 0, the bottom level is -100 and the top level is +100.
Most swings in this indicator occur between two levels of +100 and -100, and fluctuations outside this range means overbought and oversold zones.
How to use CCI oscillator
CCI oscillator indicates a deviation from the moving average within the period specified by you.
With the settings you specify for the CCI oscillator, you can get the price deviation relative to the moving average.
CCI Indicator Settings
By default, in CCI the moving average is for a period of 20 days.
But according to our study in 2020, most users who have used the CCI oscillator usually have a time period within a period of 12 to 14 days.
As in other moving averages, if this number is set to a smaller time interval, we will have more swings.
the longer this interval is set, the less sensitive we will be to the CCI oscillator.
So in the shorter interval mode, the CCI indicator detects more signals but with less accuracy.
And over a longer period of time, the number of signals will be less but will be more accurate.
It is worth remembering that in very long periods of time you may also miss good trades Opportunities.
So in your optimized version, you need to find a normal time interval (12 to 14 and a maximum of 20 days) not to miss the trade opportunities so that you can take full advantage of them.
How to Get Signal with CCI Indicator
You do not need to do anything special to get the signal in CCI indicator. this can be done easily.
The buy signal in CCI is issued when the indicator goes above +100 level in the hope of formation of a strong uptrend.
The sell signal in CCI is issued when the price goes below the limit of -100 in the hope of formation of a strong downtrend.
If we are above +100, we expect the indicator to go up and the price to rise, and when it is below the number -100, we expect the price to decrease and a sell signal will be issued to us.
Of course, I remind you once again that you should never trade based on a mere signal issued by a CCI oscillator.
this signal is only issued for you to filter out other indicators and signals issued by your personal strategy.
As you can see in the picture above, the market has reacted approximately in the 7 situations. The trend has been followed in some more and in some less.
In case 4 and 6, if you pay close attention, the signal is issued but no significant movement has been taken place. But in cases 1, 2, 3 or 5, with the issuance of the signal, the trend has acted as predicted.
That's why, we say that an indicator alone is not suitable for taking positions and you should use it as a filter alongside other indicators or your own strategy.
Divergence with CCI indicator
In the CCI oscillator, like RSI and MACD, the divergences can be predicted.
The divergence in CCI indicator is very strong. Divergences detected by CCI indicator indicate the confirmation and continuation of the trend or reversal of the trend and are very important for trades.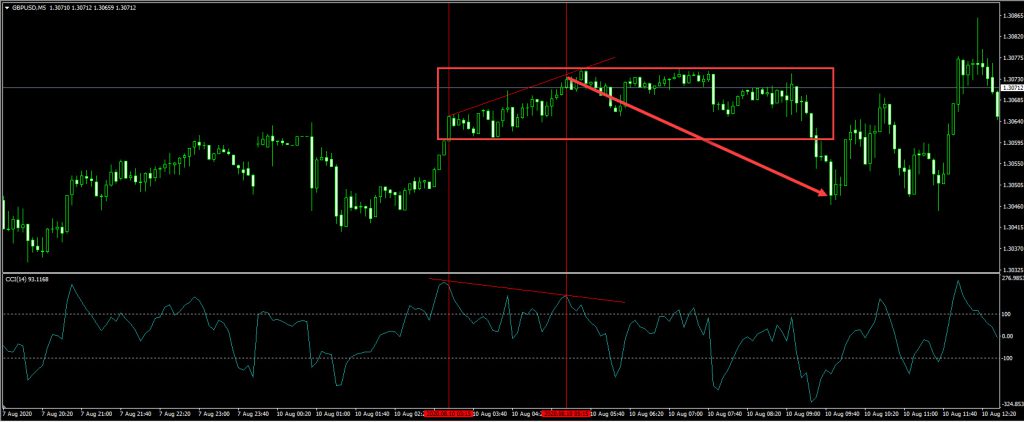 it is quite clear in the image above that it detects a market divergence and has changed direction from ascending to descending and has then declined.
Tricks on CCI indicator
One of the most common uses of the CCI is to detect and taking the trends especially in longer timeframes.
CCI oscillator is one of the most powerful tools in technical analysis, but it should be noted that the main application of this oscillator is in the stock market and is rarely used on currency pairs, However I personally believe that the indicator can also work well in currency pairs. Therefore, we will soon teach a strategy with this indicator.
CCI indicator or CCI oscillator, whatever you want to call it, provides different results in different settings.
In various timeframes it provides different calculations and even has different applications in various currency pairs or stocks with different time frames used. So all and all we want to say never ever run it on your real accounts charts without practice and mastering it.
CCI indicator is similar to a scalpel meaning that it can be both lethal and also help us doing our job. So this is you who will determine the outcome.
A scalpel alone is not a cure and cannot help us, but will only be something which can cause death.
Using CCI indicator alone will only result in a call margin!
To make a profit using it, you need various other tools (Other indicators) or your own trading strategy.